Using 12 point sockets to 
turn squares on kit tools :
Our tooling is supplied with square drives.
Normally you would use a TAP-WRENCH on taps or tools with squares.
But you will probably not have enough room for a tap wrench because of
clearance issues with a frame rail or some obstruction. Square drive 
sockets are another option. If you do not have square drive sockets you
may optionally try to use 12 point sockets to drive the squares on tools.
12 point sockets generally will hold a square better than a 6 sided socket.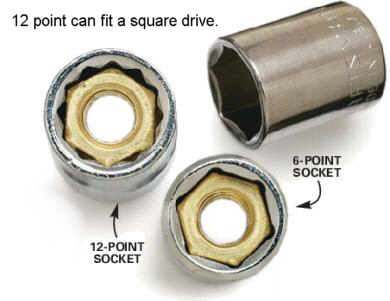 EXAMPLE FOR M14x1.5 DRAIN PAN KIT 12 POINT SOCKETS.
1) Drill square = 1/2 inch 12 point socket. 
2) CounterBore square = 7/16 inch 12 point socket.
3) Tap square = 7/16 inch 12 point socket .
4) Driver tool square = 3/8 inch 12 point socket.
This is only one possible solution to turning a tool with a square drive.