TIMESERT ® PROFESSIONAL THREAD REPAIR KITS INCH SIZES
Thread Repair kit size refer to the size of bolt you are trying to repair.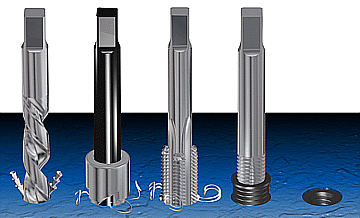 KIT CONTAINS: Drill, Counterbore, Tap, Installation Driver, (5) Steel Inserts.
Click here: for video instructions

Click here: for Engineering Data info.

Click here: for blind hole repair info.
NOTE: Lengths marked in Red are the inserts supplied in the kits
LENGTH

PART NO.

INCHES

CARBON STEEL

STAINLESS STEEL

KIT
PART NO.

LENGTH
INCHES

CARBON STEEL

STAINLESS STEEL

4 - 40

KIT
PART NO.

LENGTH
INCHES

CARBON STEEL

STAINLESS STEEL

6 - 32

KIT
PART NO.

LENGTH
INCHES

CARBON STEEL

STAINLESS STEEL

8 - 32

08321
08323

08322
08324

KIT
PART NO.

LENGTH
INCHES

CARBON STEEL

STAINLESS STEEL

10 - 24

00240
00241
00243

00246
00242
00244

KIT
PART NO.

LENGTH
INCHES

CARBON STEEL

STAINLESS STEEL

10 - 32

.187
.240
.300
.370

00328
00326
00322
00324

KIT
PART NO.

LENGTH
INCHES

CARBON STEEL

STAINLESS STEEL

12 - 24

01241
01243
01245

01242
01244
01246

KIT
PART NO.

LENGTH
INCHES

CARBON STEEL

STAINLESS STEEL

1/4 - 20

.280
.380
.500
.750
1.000

01400
01401
01403
01405
01407

01406
01402
01404
01408
01409

KIT
PART NO.

LENGTH
INCHES

CARBON STEEL

STAINLESS STEEL

1/4 - 28

.280
.380
.500

01480
01481
01483

01486
01482
01484

KIT
PART NO.

LENGTH
INCHES

CARBON STEEL

STAINLESS STEEL

1/4 - 24
Harley Davidson

.280
.380
.500

01441
01443
01445

- - - -
- - - -
- - - -

KIT
PART NO.

LENGTH
INCHES

CARBON STEEL

STAINLESS STEEL

KIT
PART NO.

LENGTH
INCHES

CARBON STEEL

STAINLESS STEEL

5/16 - 18

05610
05611
05613
05615

05617
05612
05614
05616

KIT
PART NO.

LENGTH
INCHES

CARBON STEEL

STAINLESS STEEL

5/16 - 24

05620
05621
05623
05625

- - - -
05622
05624
- - - -

KIT
PART NO.

LENGTH
INCHES

CARBON STEEL

STAINLESS STEEL

3/8 - 16

.312

.400

.520

.620

.750

.900

1.000

1.200

03818
03819

03811

03813

03815

038190
03810


03817

038182

038192

03812


03814

03816

- - - -

038102

- - - -

KIT
PART NO.

LENGTH
INCHES

CARBON STEEL

STAINLESS STEEL

3/8 - 24

- - - -
03825
03821
03823

03820
- - - -
03822
03824

KIT
PART NO.

LENGTH
INCHES

CARBON STEEL

STAINLESS STEEL

7/16 - 14

.400


.600

.870

1.000

1.250

1.500

07610
07611
07613
076135
07615
07617

- - - -
07612
07614

07619

07618
- - - -

KIT
PART NO.

LENGTH
INCHES

CARBON STEEL

STAINLESS STEEL

7/16 - 20

.250

.370

.480

.600

.870

1.000

1.370

07629
076320
07627
07621

07623

076231

07625

- - - -
- - - -
- - - -
07622
07624

- - - -

- - - -

KIT
PART NO.

LENGTH
INCHES

CARBON STEEL

STAINLESS STEEL

7/16 - 24

07642
- - - -
- - - -

KIT
PART NO.

LENGTH
INCHES

CARBON STEEL

STAINLESS STEEL

1/2 - 13

.400
.650
1.000
1.250
1.500

01217

01211

01213

01219

01215

- - - -
01212
01214
- - - -
- - - -

KIT
PART NO.

LENGTH
INCHES

CARBON STEEL

STAINLESS STEEL

1/2 - 20

01225
01220
01221
01223
01227

01226
- - - -
01222
01224
- - - -

KIT
PART NO.

LENGTH
INCHES

CARBON STEEL

STAINLESS STEEL

9/16 - 12

09610
09611
09615
09617

KIT
PART NO.

LENGTH
INCHES

CARBON STEEL

STAINLESS STEEL

9/16 - 18

09687
09685
09681
09683

- - - -
- - - -

- - - -

- - - -

KIT
PART NO.

LENGTH
INCHES

CARBON STEEL

STAINLESS STEEL

5/8 - 11

.500
.850
1.250
1.500

05810
05811
05813
05815

- - - -
05812
05814
- - - -

KIT
PART NO.

LENGTH
INCHES

CARBON STEEL

STAINLESS STEEL

5/8 - 18

05881
05887
05883
05885

- - - -
- - - -

- - - -

- - - -

KIT
PART NO.

LENGTH
INCHES

CARBON STEEL

STAINLESS STEEL

3/4 - 10

.750
1.100
1.500

03415
03411
03413

KIT
PART NO.

LENGTH
INCHES

CARBON STEEL

STAINLESS STEEL

3/4 - 16

.650
1.100
1.500

03460
03461
03463